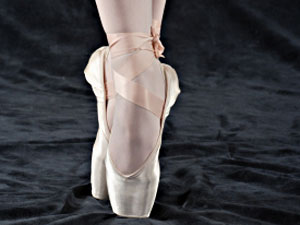 When I was a kid, I often used to bounce around the living room pretending to be a ballerina performing to the soundtrack from the Lion King, or attempting twirls on the wooden plank dividers on the playground. These stunts usually resulted in landing on the side of my foot, bruising my ankle.
I am still that clutzy young girl who has slidden down the stairs head first on more than one occasion. (This has caused a severe fear of walking down high/long flights of stairs. This is often why  avoid high heeled shoes, considering that I can trip over "thick" air in tennis shoes).
The true disappointment is the lack of grace and composure in my personality. I desire to be that woman who's gentle and peaceful spirit is evident in her outward appearance. I want to be the dainty hostess who is kind to ask questions of others, instead of yammering about herself. I want to be the woman who guards her emotions instead of being subject to them. I want to be secure in my identity as a woman in Christ, that I do not have to be anything else: competitive, perfect, witty, funny, or feisty.
To be fair, I'm not sure how much of that is an imagined persona considering I'm not sure I've met anyone who completely embodies those traits. My encouragement is found in Philippians 1:6. The promise that Christ will finish what He began in my life. Of course, the trick is getting caught up in His plan for my life, and not my own.
Maybe the best description is that I want to radiate as a grace filled woman; to reflect God's love from His acts of redemption and forgiveness.
And yet, He graciously uses us in our imperfections!
2 Corinthians 4:7  But we have this treasure in jars of clay, to show that the surpassing power belongs to God and not to us
I am the clay–He is the Potter.
How it works is that the wheel must spin the clay as the Potter molds it, such is our experience in life. We must continue, as He invisibly molds all of our aspects into a clay pot that will most show His glory, not our own.
POST EDIT: Literally moments after writing this post, I began research for a paper I have to write this weekend. I read the words in John Piper's Sex and the Supremacy of Christ:
"A gentle and quiet spirit is not a personality type. A simple definition for a gentle and quiet spirit is a steadfast peace because of a steadfast trust in God" (Piper, 2005, p.205).
Oh, God makes me laugh in His irony!